Flux cored solder wire
For Aluminum wire soldering

K4-C601-3
Comply to aluminum wire
Solderable by iron to aluminum wire, used such as in the HDD of the actuator.
Solderable to aluminum
●Soldering test to aluminum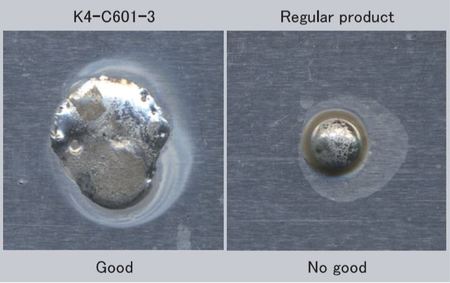 Solderable to aluminum
Put solder wire on aluminum board and heat by 270℃
Prevent galvanic corrosion
Additive elements achieve high soldering reliability and prevent the galvanic corrosion that occurs between the aluminum material and solder.
High soldering reliability
●Electrolytic corrosion test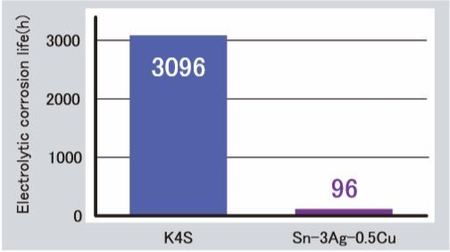 Measure the time until the solder delamination occurs, stored in 40℃ of artificial seawater, after soldering the two aluminum plates
Good water washability
Apply water-soluble base material instead of rosin.The residue after soldering is possible to wash away easily with water.
Good water washability
●Ionic residue test

The flux residue is possible to clean with water
【Test method】JIS Z 3197 8.5.2

【Condition】
Cleaning solution:Pure water
Washing temp:50℃
Washing time:1min
Number of washings:3 times
Alloy type
K4 (Sn:Bal / Ag 3.5 / Ni 0.2)
Flux type
Fluorine type
Flux contents (%)
3.0%
Halide contents
17%~23%
Copper plate corrosion test
No corrosion
(after cleaning with water)
Insulation resistance(Ω)
More than 1.0×108Ω
(after cleaning with water)
Electrochemical migration
No migration
(after cleaning with water)
Fluorine contents(%)
20%
Flux name
C601