Flux cored solder wire
Non-cleaning type for aluminum

EAN series
Solderable to aluminum
Use special fluorine compound as the activater.Strong activation enables to solder to aluminum parts which is so difficult to solder.


Solderable to aluminum
●Soldering example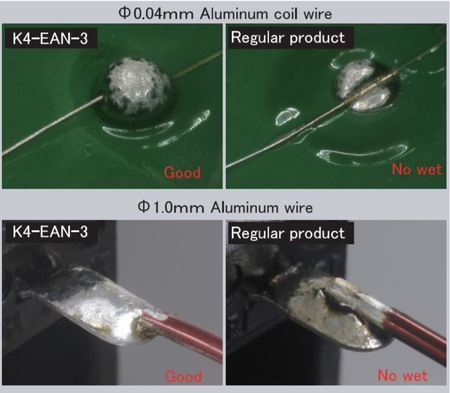 Non-clean
Suppress the corrosion and achive to secure the reliability after soldering. Cleaning of flux residue is not required like the general flux cored solder wire.
Non-clean
●Copper plate corrosion test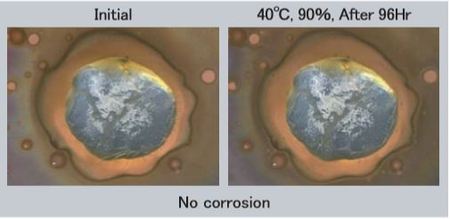 Strong activity and low corrosivity stand side by side
Progressive application
Enables to solder to aluminum wire, which was impossible in the past, and to allow for the introduction of aluminum wire in wide range of applications.
Progressive application
●Applications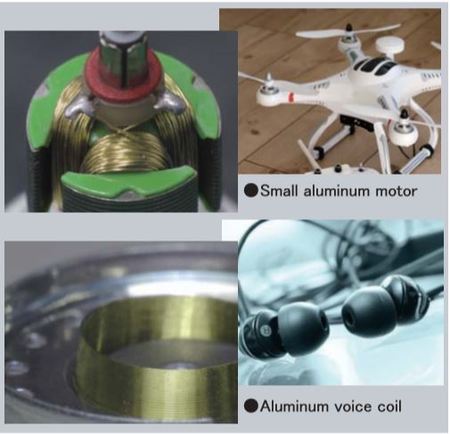 | | |
| --- | --- |
| Alloy type | K4 (Sn:Bal / Ag 3.5 / Ni 0.2) |
| Flux type | Fluorine type |
| Flux contents (%) | 3.0% |
| Halide contents | less than 0.3% |
| Copper plate corrosion test | No corrosion |
| Insulation resistance(Ω) | More than 1.0×108Ω |
| Electrochemical migration | No migration |
| Fluorine contents(%) | 0.6%~0.8% |
| Flux name | EAN |