Flux cored solder wire
Completely halogen free type

HFC series
Good wettability


Adding a special activators other than Cl and Br. Good wettability while compliant to halogen-free standards.
Good wettability
●Soldering test with soldering robot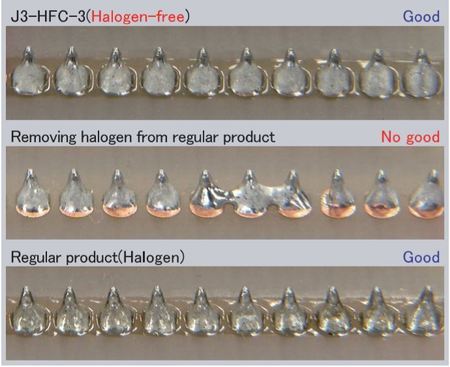 Equivalent wettability to Halogen-containing products
【Condition】
Iron temp:400℃
Iron speed:20mm/s
PCB:Cu, one side
Completely halogen-free
No halogen addition including chlorine(Cl) and bromine(Br).Halogen-free compliant with current all halogen-free standards.
Halogen-free compliant
●Compliant situation of HFC series
| Standards | Compliant situation |
| --- | --- |
| JPCA-ES01 | Compliant |
| IEC61249-2-21 | Compliant |
| IPC4101B | Compliant |
| JEITA ET-7304A | Compliant |
Comply to all of halogen free standards
Solderable to the flame base material
Good wettability even for nickel and brass.Can solder with various components.
Solderable to the flame base material
●Wettability test for base material plate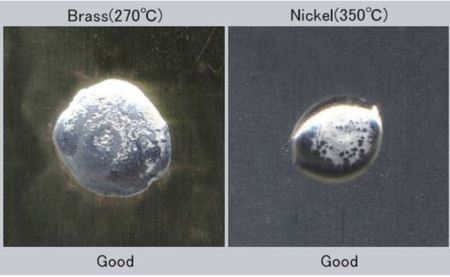 Solderable to various base material
Alloy type
J3 (Sn:Bal / Ag 3.0 / Cu 0.5)
R4 (Sn:Bal / Ag 0.3 / Cu 0.7)
R3 (Sn:Bal / Cu 0.55)
Flux type
Halogen free type
Flux contents (%)
3.0%、4.0%、6.0%
Halide contents
less than 0.3%
Copper plate corrosion test
No corrosion
Copper mirror corrosion
No corrosion
Insulation resistance(Ω)
More than 1.0×109Ω
Electrochemical migration
No migration
Halogen contents(ppm)
Cl : Less than 50
Br : Less than100
Flux name
HFC