Flux cored solder wire
Water soluble type

WSG series
Good wettability
Apply flux activator according to base material.Good solderbility can achieve higher productivity for various type parts.
Good wettability
●Wettability comparison in line soldering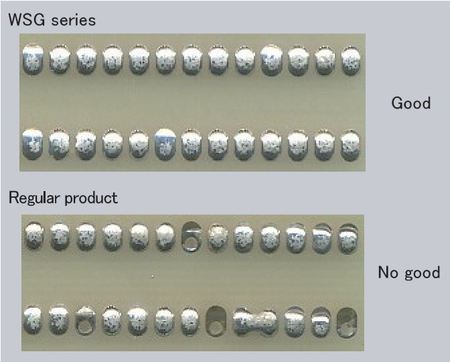 Sustained wettability
【Condition】

Iron temp:360℃

Iron speed:5mm/s
Good water washability
Water soluble base material instead of rosin.The residue after soldering is possible to clean away easily with water.
Good water washability
●Ionic residue test

The flux residue is possible to clean with water
【Test method】JIS Z 3197 8.5.2

【Condition】
Cleaning solution:Pure water
Washing temp:50℃
Washing time:1 min
Number of washings:3
Reduce spattering
With the effect of special activator, solder and flux spattering were reduced.Higher mounting quality can be secured.
Very few spattering
●Flux spattering test with soldering iron robot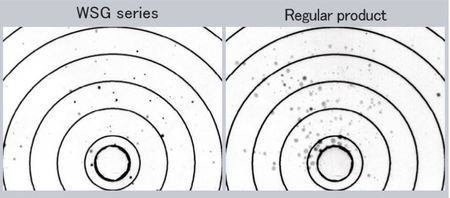 Few spattering
Collect spattered flux onto thermal paper.

【Condition】
Iron temp:380℃
Feed speed:15mm/s
Feed length:5mm × 200 shots
Alloy type
J3 (Sn:Bal / Ag 3.0 / Cu 0.5)
J9 (Sn:Bal / Ag 3.5 / Cu 0.7)
Flux type
Water soluble type
Flux contents (%)
2.0%、3.0%
Halide contents
1.6%~2.4%
Copper plate corrosion test
No corrosion
(after cleaning with water)
Copper mirror corrosion
No corrosion
(after cleaning with water)
Insulation resistance(Ω)
More than 1.0×108Ω
(after cleaning with water)
Electrochemical migration
No migration
(after cleaning with water)
Flux name
WSG