Solder paste (bottle)
Transparent residue for LED soldering type

8860 series
No color flux residue
Apply colorless base material suppress the coloring of the residue.Beautiful soldering appearance persists without discoloration long time after SMT.
No color flux residue achieve good appearance
●Comparison of residues after reflow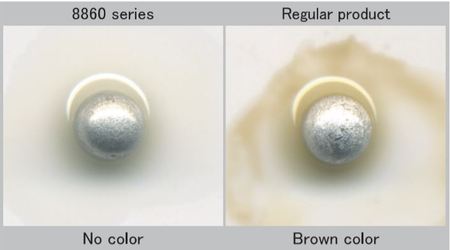 Ensure high quality soldering in illumination equipment such as LEC lamps
High insulation resistance at high temperatures
Optimization of the type and amount of activator keep the insulative even at high temperatures.Malfunction of the LED lighting equipment is prevented under harsh environment.
High insulative even at high temperature
●Insulation resistance test at 85℃ and 120℃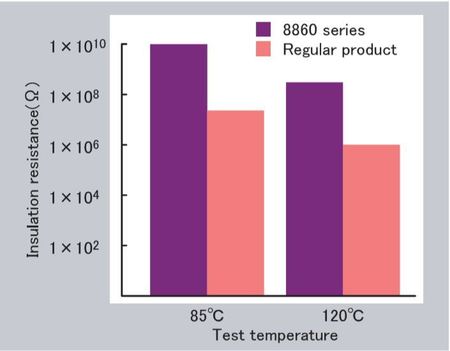 Stable insulation resistance
Test PCB:JIS-Ⅱ
Test voltage:100V
Applicable for Low Ag alloy
Corresponds to the low-Ag alloy, and already it has been approved by several users.Low-Ag alloy helps reducing material cost.
Applicable for Low Ag alloy
●Wetting result with Low Ag(Sn-0.3Ag-0.7Cu)alloy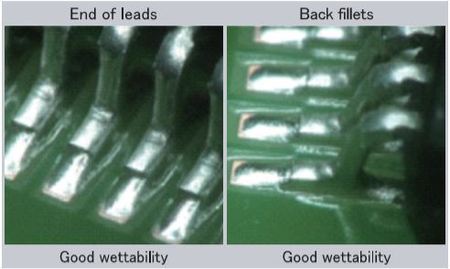 Good wettability for low Ag
Condition:Atmospheric
Pre heating:150℃~170℃,100 sec
Heating:230~255℃,60 sec
Alloy type
J3 (Sn:Bal / Ag 3.0 / Cu 0.5)
R4 (Sn:Bal / Ag 0.3 / Cu 0.7)
Flux type
MIL-RMA
Halide contents
Less than 0.03%
Powder particle size(μm)
38~25(Equivalent to type4)
Flux contents(%)
11.7%
Deterioration(Pa・S)
200
Copper plate corrosion test
No corrosion
Copper mirror corrosion
No corrosion
Insulation resistance(Ω)
More than 5.0×108Ω
Electrochemical migration
No migration
Flux name
8860