Solder paste (bottle)
Halogen free standard compliant printng type for LASER

8239 series
Suitable for LASER soldering
Suitable for LASER heat soldering.Achieve a good soldering quality, with avoiding satelite balls.


Reduce solder ball
●Solder ball test by LASER heating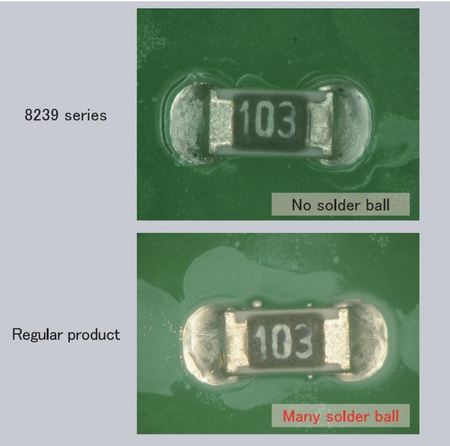 Few solder ball occurs by rapid heating in short time
Irradiation time:0.2 sec
Parts:1005R chip
Halogen-free compliant
No intentional addition of chlorine(Cl) and bromine(Br), which genelate dioxins.Compliant with most of halogen-free standards.
Halogen-free compliant
●Compliant situation of 8239 series
| Standards | Compliant situation |
| --- | --- |
| JPCA-ES01 | Compliant |
| IEC61249-2-21 | Compliant |
| IPC4101B | Compliant |
| JEITA ET-7304A | Non compliant |
Comply to major halogen-free standards
Brand-new process
Enable to adopt brand-new process combined LASER and printer which can shorten the SMT processing time as reflow oven is not required.
Stable viscosity
●Viscosity test of continuous printing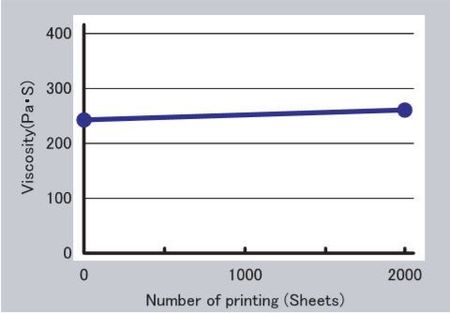 Stable viscosity of continuous printing
Alloy type
J3 (Sn:Bal / Ag 3.0 / Cu 0.5)
Flux type
Halogen free
Halide contents
0.10%~0.14%
Powder particle size(μm)
38~20(Type 4)
Flux contents(%)
10.5%
Deterioration(Pa・S)
230
Copper plate corrosion test
No corrosion
Copper mirror corrosion
No corrosion
Insulation resistance(Ω)
More than 5.0×108Ω
Electrochemical migration
No migraiton
Halogen contents(ppm)
Cl : Less than 50
Br : Less than 100
Flux name
8239