Solder paste (bottle)
Completely halogen free type

7100 series
Long lasting printing stability
Prevents the reaction of the flux and powder, in order to prevent the viscosity increasement during continuous printing.Enable to implement stability.
Good stability on continuous printing
●Confirmation of the shape of the printed solder paste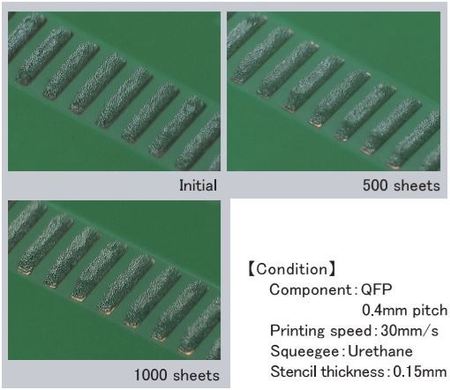 Stable shape after long time printing
Completely halogen-free
No halogen addition including Chlorine(Cl) and bromine(Br).Halogen-free compliant with curent all halogen-free standards.
Halogen-free compliant
●Compliant situation of 7100 series
| Standards | Compliant situation |
| --- | --- |
| JPCA-ES01 | Compliant |
| IEC61249-2-21 | Compliant |
| IPC4101B | Compliant |
| JEITA ET-7304A | Compliant |
Comply to all of halogen free standards
Reduce void
Adding material which facilitated that the gas in the molten solder comes out, it may reduce the remaining of voids.


Reduce void
●Confimation of voids in large parts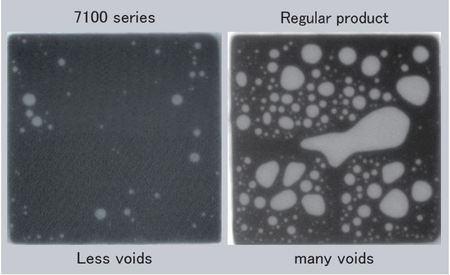 Less void in large parts
Condition:Atmospheric
Pre heat:180℃,120 seconds
Component:6mm■ parts
Alloy type
J3 (Sn:Bal / Ag 3.0 / Cu 0.5)
Flux type
Halogen free
Halide contents
0%
Powder particle size(μm)
38~20(Type 4)
Flux contents(%)
11.5%
Deterioration(Pa・S)
180
Copper plate corrosion test
No corrosion
Copper mirror corrosion
No corrosion
Insulation resistance(Ω)
More than 1.0×108Ω
Electrochemical migration
No migration
Halogen contents(ppm)
Cl : Less than 50
Br : Less than 100
Flux name
7100