Solder paste (syringe)
Completely halogen free type

3700 series
Reduce solder ball
Special activater enables rapid heating SMT by LASER.Solution of solder ball by reducing slumps in heat.
Reduce solder ball
●Comparison of solder ball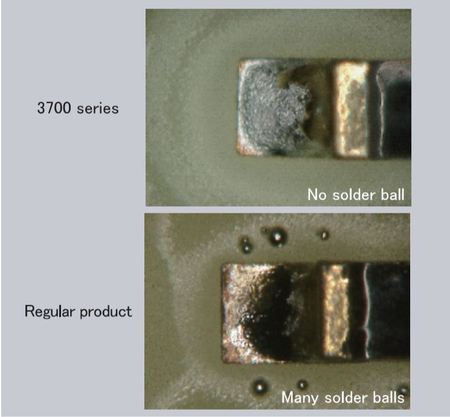 No solder ball by rapid heating
1608R chip
Beam power:30W
Completely halogen-free
No halogen addition including chlorine(Cl) and bromine(Br).Halogen-free compliant with curent all halogen-free standards.
Halogen-free compliant
●Compliant situation of 3700 series
| Standards | Compliant situation |
| --- | --- |
| JPCA-ES01 | Compliant |
| IEC61249-2-21 | Compliant |
| IPC4101B | Compliant |
| JEITA ET-7304A | Compliant |
Comply to all of halogen free standards
Good dispensing stability
Preventing the reaction of flux and powder.Achieve high dispensing stability, even in very small discharge.
Good dispensing stability
●Continuous dispense test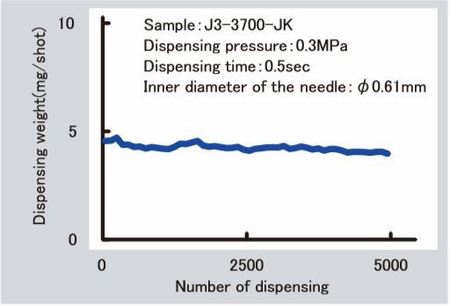 Stable dispense volume
Alloy type
J3 (Sn:Bal / Ag 3.0 / Cu 0.5)
Flux type
Halogen free
Halide contents
0%
Powder particle size(μm)
45~25(Type 3)
38~20(Type 4)
Flux contents(%)
14.5%
Deterioration(Pa・S)
130
Copper plate corrosion test
No corrosion
Copper mirror corrosion
No corrosion
Insulation resistance(Ω)
More than 1.0×108Ω
Electrochemical migration
No migration
Halogen contents(ppm)
Cl : Less than 50
Br : Less than 100
Flux name
3700