Solder paste (syringe)
Halogen free for micro components

3232 series
Reduce solder ball


Special activator enables rapid heating SMT by LASER. Solution of solder ball by reducing slumps in heat.
Reduce solder ball
●Comparison of solder ball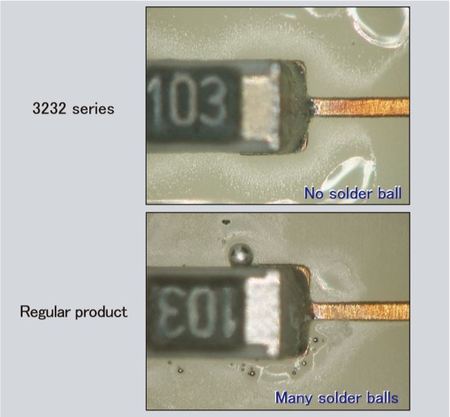 No solder ball by rapid heating
1608R chip
Beam power:40W
Halogen-free compliant
No intentional addition of chlorine(Cl) and bromine(Br), which generate dioxins.Compliant with most of halogen-free standards.
Halogen-free compliant
●Comopliant situation of 3232 series
| Standards | Compliant situation |
| --- | --- |
| JPCA-ES01 | Compliant |
| IEC61249-2-21 | Compliant |
| IPC4101B | Compliant |
| JEITA ET-7304A | Non compliant |
Comply to major halogen-free standards
Specialize in the micro-parts soldering
Special designed for the soldering of micro-components,Solution for peculiar problems of micro-components.
Suitable for LASER heating of narrow pitch
●SMT test of QFP parts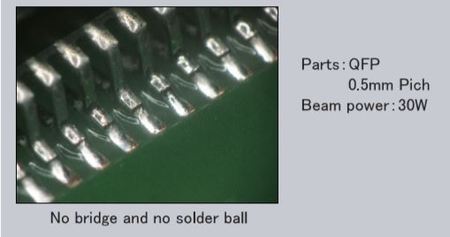 Suitable for various SMT parts
Alloy type
J3 (Sn:Bal / Ag 3.0 / Cu 0.5)
Flux type
Halogen free
Halide contents
0.10%~0.14%
Powder particle size(μm)
25~15(Type 5)
Flux contents(%)
14.5%
Deterioration(Pa・S)
100
Copper plate corrosion test
No corrosion
Copper mirror corrosion
No corrosion
Insulation resistance(Ω)
1.0×108Ω
Electrochemical migration
No migration
Halogen contents(ppm)
Cl : Less than 50
Br : Less than 100
Flux name
3232