Soldering issues
Measures for Void (Solder paste)
Void issues
The void at the soldered part occurs that the gas remains inside which is generated in soldering. The voids of up to 25% in area of joints are allowed in the IPC-A-610, an industry standard, but voids reduction is required for parts such as power devices, in order to improve heat dissipation efficiency and bond reliability.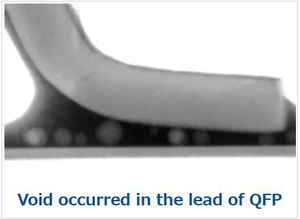 Causes of void
Causes of void are as below
① Air bubbles remaining in unwetted parts
② Decomposition gas of flux remaining in solder
③ Decomposition gas caught in unwetted parts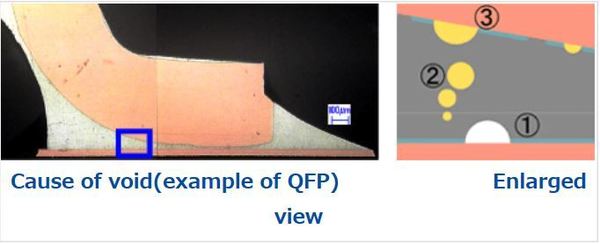 Measures of void
To prevent voids, necessary not to make unwetted parts on boards and parts. It is important to adequately manage so that deterioration such as oxidation and moisture absorption does not occur during storage.
We have a less void type solder paste using materials with good wettability and less gas generation, so please contact us.